Important Announcement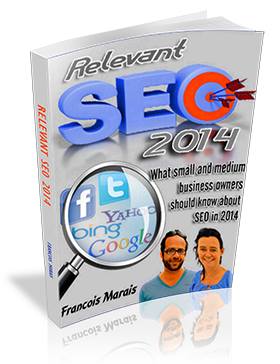 Click on image to download. ( Will redirect to www.seobook.co.za) (Live web version of Ebook and fresh SEO news).
May 2014 Kwikwap Training
3 May 2014 and 10 May 2014
Time: 09:00 - 12:00
Address: 76 Paradys Rd , Brackenfell, Cape Town
Cost: R150
Available seats: Max 10
17 May and 24 May
Time: 09:00 - 12:00
Address: 80 Glenwood Rd, Lynnwood Glen , Pretoria
Cost: R150
Seats: Max 10 per session
If your primary concern is your website's look and feel then rather get a website revamp done for +- R600 by either www.sureweb.co.za or www.butterbee.co.za. We do not deal with the design section when offering training to clients. The training is aimed at clients and not consultants. We feel that R600 is very cheap to get a professional design and we can add more value in training sessions when we ignore the design section completely.
Both venues do have wireless internet. Bring your own laptop but please charge it full. There is not allways enough plugs.
We will be very strict to limit the maximum number of attendees.
First come first serve.
To register:
Step 1 : Make payment
Step 2 : Complete below registration form
Step 3 : Mail proof of payment to francois@kwikwap.co.za
We will notify you below when the course is full
| | | |
| --- | --- | --- |
| Date | City | Open/Full |
| 3 May 2014 | Cape Town | Full |
| 10 May 2014 | Cape Town | Full |
| 17 May 2014 | Pretoria | Open |
| 24 May 2014 | Pretoria | Full |
Banking details
FF Marais
Standard Bank
Savings Account
414466144
Menlyn
012345
Training agenda
The course will be aimed at people with little or no experience at all so please be patient. We will tailor the agenda to suit the needs of those attending. Keeping the groups small affords us the opportunity to attend to individual needs.
We will cover topics such as:
How Google Search Works
Available Help
The content editor (images, tables, text)
Hyperlinks on text and images
Activating / Deactivating add ons
Communicating with customers (Newsletters / Text)
What clients can do to improve the Google rankings
We will discuss the attendees websites and make suggestions
Enough time for questions and answers will be given.